3C EASY
Professional mobile phone chain store maintenance platform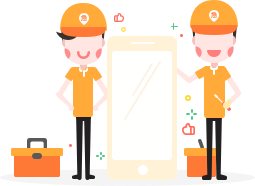 Who Are We?
3C EASY Professional mobile phone chain store quick maintenance platform, mobile phone maintenance leader, provides professional mobile phone maintenance service for the mainstream brand model to the user. Over 7000+ stores cover China, Hong Kong, America, Canada, Malaysia, Vietnam, Indonesia, Thailand, Brunei, and other Southeast Asian countries. Our maintenance service price is the same which is home service or store service, fast and convenient, save your time and energy by using our home service.
3C EASY using standardization management. PISEN direct supply high quality of accessories, 1-year warranty, control the quality of maintenance from the beginning, your maintenance gets assured. We try to make all the Malaysians stop worried about fixed the mobile phone, we volunteer to become a practitioner of industry standards.
What Can We Do For You?
3CEASY provides mobile phone screen change and battery replacement services for mainstream brands such as Apple, Samsung, Huawei, SONY, LG, HTC, XiaoMi and One Plus in Malaysia. In addition, it provides replacement of accessories and repair service such as mobile phone microphone, speaker, camera, power button, sound button, home button, back cover, and other common problem.
3C EASY currently have one service store (location detail can be view on the official website). At the same time, an online appointment for quick repair service has been open. You just have to visit Malaysia official website (https://www.3ceasy.com) or call 1300888818 to make an appointment, 3C EASY professional maintenance engineer will come to you to solve your problem. You also can visit the nearest 3C EASY store ask for assistance. More service store will open soon.
Why Choose 3C EASY?
Fifteen years of experience and quality, from the source of strict control of maintenance quality. 3C EASY is a strategic partner and officially authorized service provider of PISEN's built-in battery and brand new mobile phone screen. It is endowed with the ability to control the upstream supply chain of the mobile phone maintenance industry. All parts of 3C EASY maintenance are tested PISEN's multiple technologies, unified certification, and standard packaging, so as to do a good job of maintaining quality management from the source.
In particular, the new mobile phone screen, with batteries, but also from the research and development, production to distribution, a yard of a full traceability industry chain advantage.